Welcome
Located in Bayside, NY, Draga Eye Care & Surgery Associates offers an array of services in a comfortable, relaxed atmosphere. Our skilled doctors and friendly staff provide the highest quality care using the most sophisticated technology available and are dedicated to helping every patient enjoy the best possible vision.
In addition to routine eye examinations and prescriptions for contact lenses, we provide top-quality services to treat a range of eye problems including cataracts, glaucoma, dry eye, macular degeneration, diabetic retinopathy and corneal disease.
Learn more about our doctors and staff »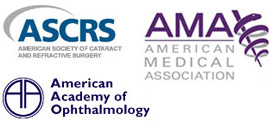 To all our patients,
After 15 years of practicing at Draga Eye Care & Surgery Associates, LLP, one of our staff ophthalmologists, Susie Hahn, MD has announced her retirement from the practice of Ophthalmology this November 2015. Dr. Hahn has been an outstanding clinician, colleague and friend to all of us at Draga Eye Care. Her patients, the physicians and staff will miss her greatly. We would like to take this opportunity to reassure Dr. Hahn's patients that their care will not be disrupted and their medical records will be maintained in our practice. In addition to Dr. Irene Draga, and myself we have 3 outstanding attending ophthalmologists that have joined our practice in 2015. They are Carrie Zaslow, MD, Christina Giannikas, MD, and Janice G. Lee, MD. All of us are extremely enthusiastic to meet Dr. Hahn's patients and continue to service the medical and surgical eye care needs of our practice. In addition, we have expanded our office hours to include evening hours to better meet the needs of our patients. We hope that you will join us in wishing Dr. Hahn success and happiness in her future endeavors and that you will continue to give us the opportunity to care for you and your families in our practice.
Sincerely,
Aspasia Draga, MD