Eye Exams
We provide comprehensive eye care to patients of all ages. At Draga Eye Care we have fully trained, experienced doctors and staff to diagnose and treat refractive errors such as myopia, hyperopia, astigmatism, and medical conditions including glaucoma, cataracts, retinal diseases and other conditions affecting the eye.
We strive to provide our patients with safe, minimally invasive treatments to effectively relieve symptoms and preserve vision and general eye health. As a comprehensive ophthalmology practice, our services include not only microscopic small-incision cataract surgery and laser vision correction but also treatments for a range of conditions such as glaucoma, dry eye, diabetic eye disease, and macular degeneration. We have in-house, state-of-the-art medical equipment and lasers to diagnose and treat many diseases of the eye.
Regular eye exams
Regular eye exams are an invaluable tool for maintaining the health of your eyes by detecting disease at the earliest stages. Some eye diseases can develop slowly without causing pain or vision loss. Early detection of eye disease can reduce the risk of further damage to the vision and allow for a choice of treatment options. We regularly screen for diseases such as glaucoma, macular degeneration, and diabetic retinopathy, which can develop without any noticeable symptoms.
Patients should see their doctor for a comprehensive eye exam every one to two years, depending on their age, risk of disease, and overall physical condition. Children should have regular eye examinations by an Ophthalmologist to ensure the proper development of their vision. Older adults are often at higher risk for eye conditions such as glaucoma, macular degeneration, and cataracts. Even if your eyes are healthy, you should still have regular complete eye examinations to detect any problems as soon as possible and begin necessary treatment.
If you have any further questions regarding our comprehensive eye care, please call us today to schedule a consultation.

---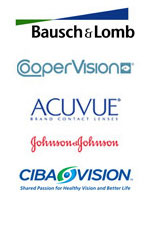 Thanks to advances in contact lens technology, many patients can successfully wear contact lenses, regardless of the type or extent of their vision problems. This includes patients with astigmatism and those who need bifocal or multifocal lenses. At Draga Eye Care, we offer a comprehensive array of contact lenses to suit our patients' individual needs - from daily disposables to monthly and bi-weekly, soft contact lenses. We also offer toric and bifocal contact lenses.
Contact lenses can be worn in the eye as your everyday vision correction or in combination with glasses. Contact lenses come in a variety of materials and wearing schedules. Daily wear contact lenses are placed in the eye each morning and removed at night. These lenses are disinfected in cleaning solution while you sleep. Some lenses are designed to be replaced biweekly others are designed for monthly replacement. Some patients are better suited to wearing daily disposable contact lenses. These lenses are discarded each day and do not require complicated cleaning solutions and care. Contact lenses come in clear and colored varieties.
To learn more about our Contact Lens Services, please call 718-428-1100 today to schedule a consultation.